Presently in a pandemic, community health centers are reimagining and adjusting how they assess and address patient Social Determinants of Health. The Protocol for Responding to and Assessing Patient's Assets, Risks and Experiences (PRAPARE) is a national effort to help health centers collect the data needed to better understand and act on patient's social determinants of health. Here we will discuss and demonstrate how to use the PRAPARE tool in NextGen to align with national initiatives proposed under Meaningful Use, Clinical Coding ICD-10, and Health Centers' Uniform Data System (UDS).
Why is it Important to Collect Data on Social Determinants of Health?
Under the value-based pay environment, providers are held accountable for costs and outcomes. Collecting data on Social Determinants of Health is important to define and document the increased complexity of patients. It is difficult to improve health & wellbeing and deliver value, unless we address community barriers. When providers address these community barriers, it enables them to demonstrate the value they bring to patients, communities, and payers while advocating for change at community and national levels.
What Does the PRAPARE Tool Measure?
Race and Ethnicity

Veteran Status

Farmworker Status

Housing Status

Education

Employment

Language Preference

Domestic Violence

Insurance Status

Neighborhoods

And More
---
NextGen PRAPARE Implementation, Flowsheet and Configuration
NextGen PRAPARE Implementation
To help facilitate standardized PRAPARE data capture, the National Association of Community Health Centers, (NACHC) worked with Electronic Health Record (EHR) vendors and Health Center Controlled Networks to create PRAPARE EHR templates that are freely available to users. For NextGen users, NexGen originally created a template known as the Social Determinants of Health that included Financial, Education, Stress, Depression, Physical Activity, Alcohol Use, Social Connection and Isolation, Exposure to Violence. This was a template that was used prior to the NextGen 5.9.2020.1 upgrade.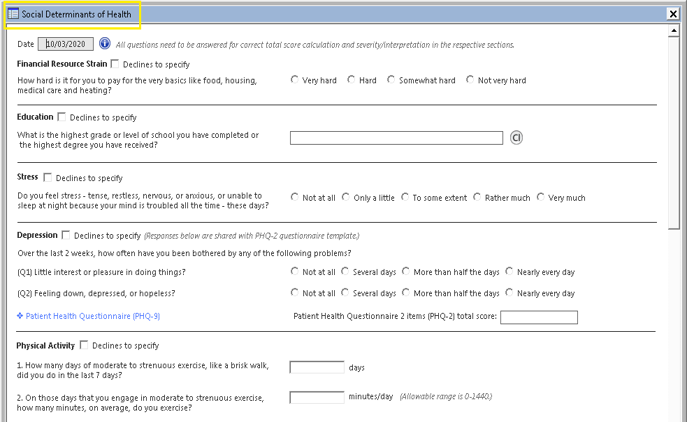 Currently, if you have upgraded to the NextGen Version 5.9 UD3 or higher the PRAPARE template is now standard within NextGen and can be accessed by signing an End User License Agreement. This new tool includes sections:
Personal Information

Personal Characteristics

Family

and

Home

Money

and

Resources

Social and Emotional Health

Optional Additional Questions

Interpretation

PRAPARE Flowsheet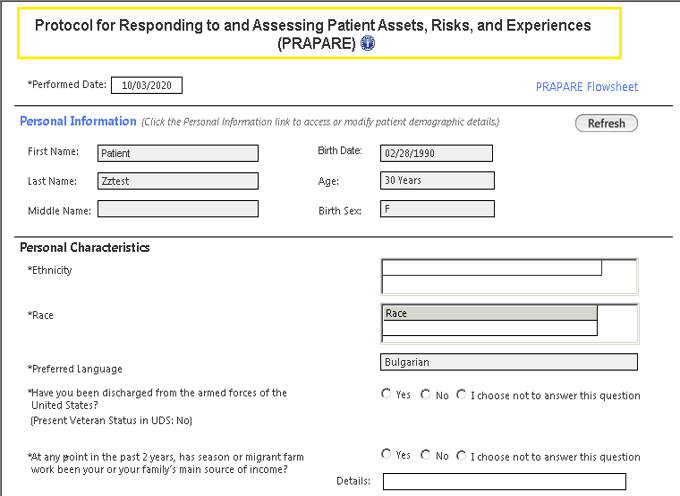 PRAPARE Flowsheet
The
PRAPARE Flowsheet is a
new
template
and
a
new
addition to the PRAP
A
RE template itself. It
enables you to view history on questions that have been answered from the patient's
overtime. This
demonstrates a progression overtime of your patient's responses
to each question.


How to Configure the PRAPARE Template in NextGen?
The configuration can be done in the practice configuration template. The sec
tion that is listed is under PRAPARE with two options: PRAPARE and Social Determinants of Health.
It is recommended t
o select one or the other.
In
addition,
there is the PRAPARE scoring
ID where you can determine
if the score has a minimum or maximum to
determine
what
interpretation should be listed. The image below
is
the out of box recommendations
.
*
Make note to remove the check mark in the Social Determinants of Health box.

PRAPARE Scoring Configuration

To learn how to use the PRAPARE Template in NextGen, we prepared a demo to understand and act on patient social determinants of health.